Phone
Iphone 14 Review: Rating From A To Z
On October 15, the iPhone 14 made its official arrival at iFan. One of the most eagerly awaited cellphones of the year is this one. So is the iPhone 14 a phone that's worthwhile to own? This article will offer a full review of the iPhone 14.
1. Beautiful design fits the hand but does not change
The iP14's design has generated a lot of conflicting reactions. Hence, in my iPhone 14 review, this is also the first thing I want to discuss.
In general, there aren't many differences between the iPhone 13 and iPhone 14. The device's frame is composed of top-notch metal, and the back is still square and beveled. The product's corners are still curled to help add softness while maintaining its innate grace.
With the phone in my hand, I feel remarkably secure and at ease. I believe that the dimensions of 146.7 x 71.5 x 7.8 mm are just right. So, you may still grip and utilize it in the most comfortable manner regardless of how big or tiny your hands are.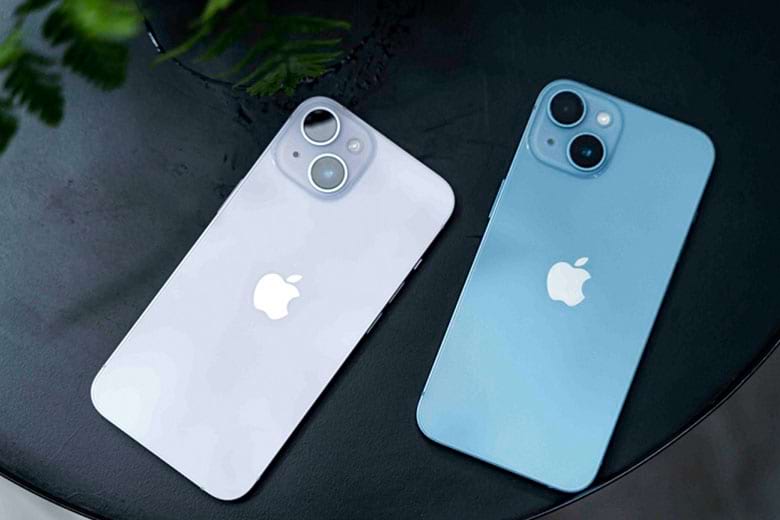 When contrasting iPhone 13 and iPhone 14, it may
be argued that color is what distinguishes them the most. Apple offers 5 color options this year, including Black, White, Blue, Purple, and Red. Thus, you can decide based on your personal tastes.
In general, the two machines are identical in terms of both design and internal arrangement. Because of this, many users are unsure if upgrading to the iP14 is worthwhile or not. In this situation, if you're using an iPhone 12 or an earlier model, you should only upgrade, according to my review of the iPhone 14. Users of the iPhone 13 are not really required to do this, though.
2. Good sharp 1200 nits maximum brightness screen
Obviously, the screen quality is an important factor to consider while assessing the iPhone 14 in its whole. With the standard iP14 this year, Apple continues to outfit Super Retina XDR OLED displays. The screen still measures 6.1 inches and has a 1170 x 2532 pixel resolution. To assist deliver a very good viewing experience, the device supports HDR10 and Dolby Vision.
The specs listed above don't surprise me. I still believe that the iPhone 14 shouldn't be criticized for its screen, even after using it. The fullest and most complete information is presented. The maximum brightness of 1200 nits ensures excellent visibility in all lighting situations. Playing video games and viewing movies is made incredibly fun by the clear visual clarity, realistic colors, and excellent contrast.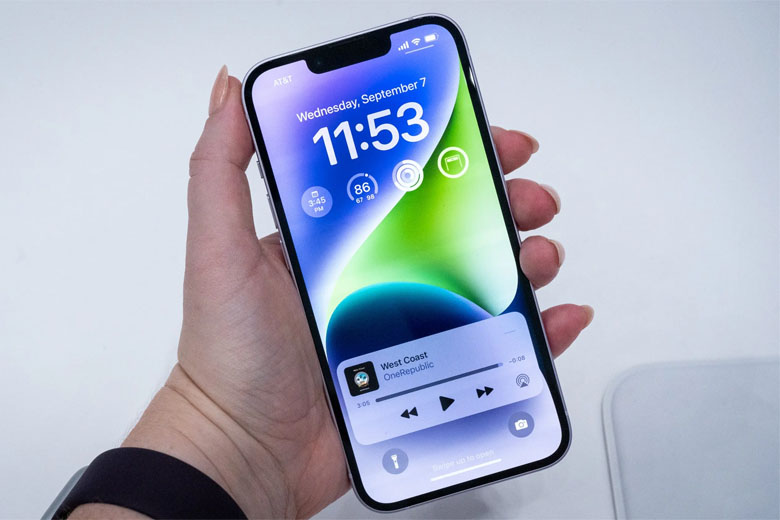 When analyzing the normal iPhone 14, the scan frequency could be what I lament the most. Apple preserved the 60Hz frequency for this phone but upgraded the high-end model with a 120Hz frequency. Hence, the sensation of touching is identical to that of its predecessor. Yet this is generally not a big deal with Apple devices.
3. Slightly upgraded camera takes sharp, realistic photos
Examine the iPhone 14's camera in more detail. Photos shot with the iPhone camera have generally been well-received, and this time is no different. The gadget has a diagonally organized cluster of two cameras. The ultra-wide-angle camera has a resolution of 12MP with an f/2.4 aperture, and the primary camera has a resolution of 12MP with an f/1.5 aperture.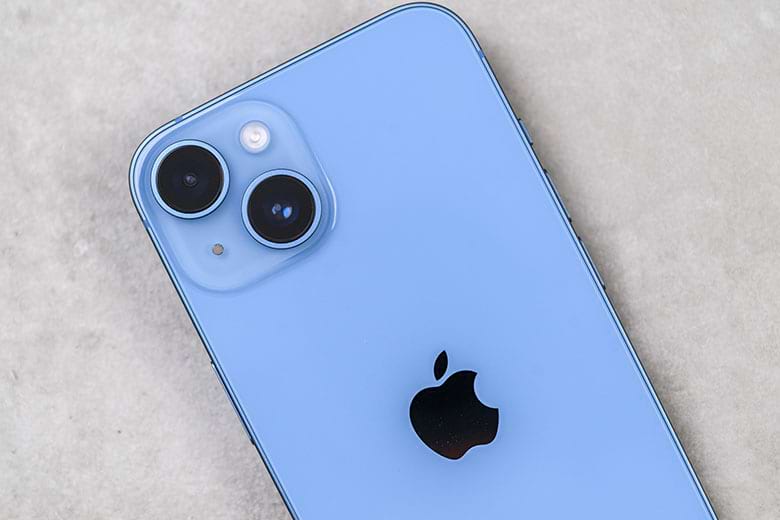 The shots I took with my phone in sufficiently bright conditions exhibited true colors, good detail, and color contrast. I think that with such stunning image quality, it will undoubtedly win over photography aficionados as well as iFans. Indeed, you won't even need to go through the time-consuming post-production steps to have a stunning photo in your camera.
The colors are still stunning and have a lot of detail in low light situations. It can be claimed that the Apple name has raised the caliber of the images captured by the new device's night camera. But generally, I believe that for the iPhone to offer the best night photography skills, more work still has to be done.
4. Old A15 chip but improved compared to its predecessor
This year, Apple stops using the newest CPU chip in all of its products. Many are hesitant to assess the performance of the iPhone 14 because it still has the Apple A15 Bionic chip in the base model. Yet, I believe that this new phone still performs better than the previous model based on the specifications and after some use.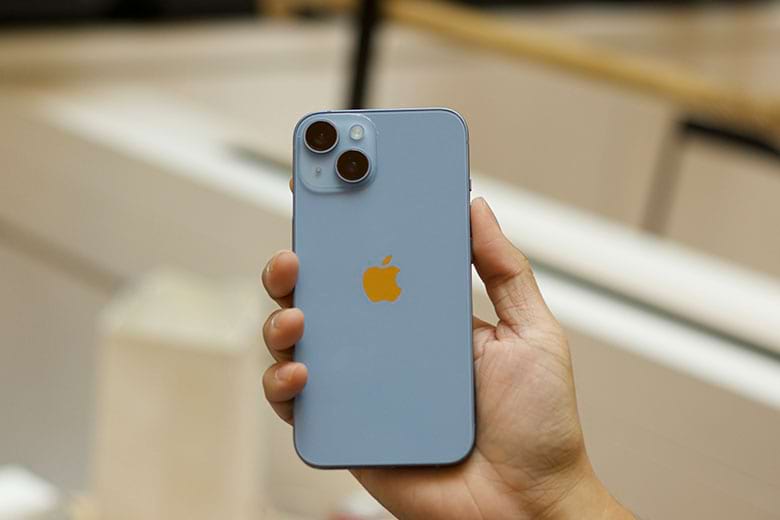 Apple's A15 Bionic chip, which powers the iPhone 14, has 6 cores with a combination of 2 3.25GHz Avalanche cores and 4 1.82GHz Blizzard cores. Moreover, the 5-core GPU aids in improved picture processing. As a result, you may play video games with high graphics settings without experiencing any issues. Even though it does not have an A16 chip like the two high-end lines, this is the reason. Yet, the iP14 is still regarded as the most potent iPhone model available today.
Moreover, this year's improvement also includes the memory capacity. The basic iP 14 has 6GB of RAM, which is 2GB more than its predecessor. This enhances the machine's capacity for multitasking. enabling you to operate with numerous browser tabs simultaneously without experiencing latency or slowness.
5. Actual performance test
To have the most comprehensive view of performance when evaluating iPhone 14, I will conduct a test through Benchmark software and during game play.
5.1. Through Benchmark software
The Antutu Benchmark program is well-known to all. A customized program is being used to evaluate the performance of smartphones. The Benchmark article shows that this year's iPhone scored fairly well, with 830,779 points, as usual. GPU scored 355,190 points, while the CPU scored 212,289 points. MEM and UX both receive scores of 134,956 and 128,344, respectively.
Geekbench 5 program should be used to keep checking the CPU's single-core and multi-core performance. The results demonstrate that the iPhone 14 has 4,668 multi-core points and 1,685 single-core points. Overall, this score surpasses that of both Snapdragon 8 Gen 1 CPUs as well as Dimensity 9000.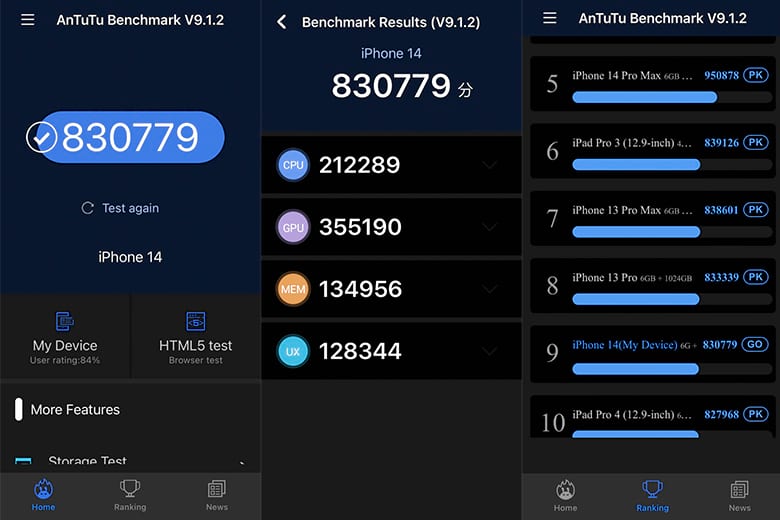 Visit Wild Life Extreme and the Stress Test for Wild Life Extreme. The iPhone 14 scored 2,957 points in Wild Life Extreme, with an average frame rate of 17.7 FPS and a 1% decrease in battery life. I then did it 20 more times to test how the machine would work under heavy use. The results of the Wild Life Extreme Stress Test come back at 71.5%. While being a fairly consistent number, it is not particularly spectacular when compared to the standard iPhone 14.
In general, if the iPhone 14 review is typically objective, the performance of the device fulfills the task needs of all users following the aforementioned test. The phone performs well in demanding graphics-intensive tasks and is capable of handling popular games. When I test actual gaming on the iPhone 14 as seen below, I will be more specific about this aspect.
5.2. Actual experience of iPhone 14 when playing games
Genshin Impact has recently gained notoriety in the gaming market thanks to its huge and authentic open world and horrible, yet gorgeous graphical setup. Therefore I'll use this role-playing game to evaluate the iP 14's gaming capabilities.
Tower of Fantasy's poor configuration, it can be stated, not only makes it challenging for high-end cellphones but even makes super-genuine Computers concerned. This time, I'll have the highest setting at 60 frames per second. The game doesn't generally stutter, lag, or freeze while playing at 60 frames per second.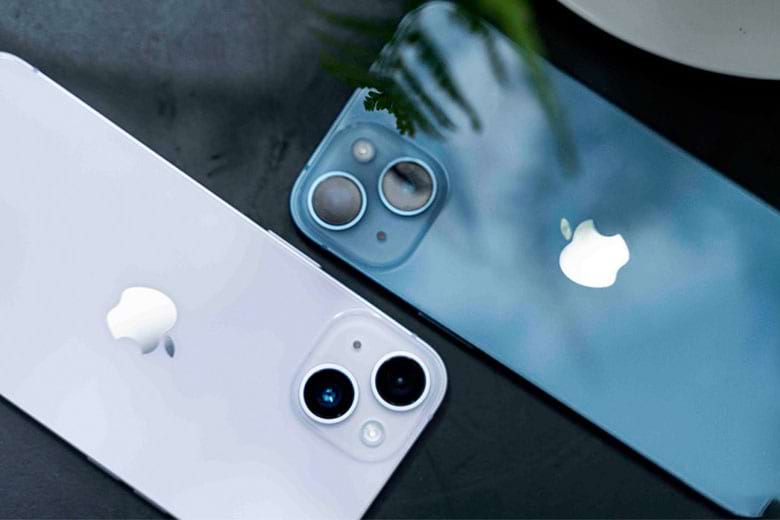 The transitions are incredibly smooth, and the image quality is exquisite with wonderful colors and great levels of detail. Each character's movements are incredibly expressive and lovely. There is only one issue: after playing the game for a while, the machine starts to get a little warm. Nonetheless, this does not significantly alter the overall experience.
6. Genuine iP68 water resistance
In recent years, water resistance has become an important factor when holding smart devices in the hand. So this factor cannot be ignored when evaluating the iPhone 14 comprehensively.
This year, Apple also gave its products the IP68 classification for water and dust protection. This allows the equipment to work trouble-free for 30 minutes at a depth of 1.5 meters. You don't need to worry about your phone breaking down if you take it to the pool or go outside in the rain. This is quite practical and improves user experience.
7. Battery capacity is quite modest
The iPhone 14's 3,279mAh Li-ion battery is rather little when compared to the Android rival, as can be seen when analyzing battery capacity. The iP 14 is still plenty to satisfy everyone's demands for work and enjoyment during the day, though.
8. Fast charging capacity is not high
If you have evaluated the iPhone 14 in terms of battery capacity, of course, fast charging cannot be ignored. This year, Apple is preparing a 20W fast charging standard for its standard phones. Although the charger allows to fully charge the battery to 100% within 1 hour and 20 minutes . However, I was expecting Apple to improve the fast charging standard.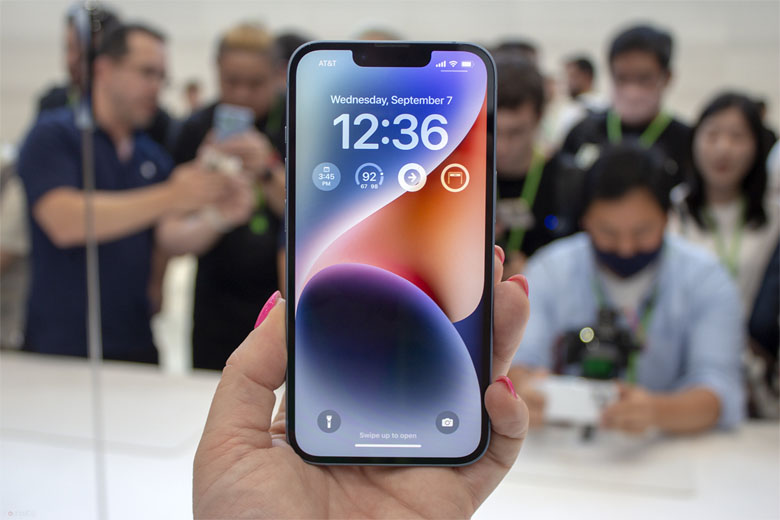 9. Ending
All the criteria for assessing the iPhone 14 after three days of use are listed above: Old wine is new, as the saying goes. Apple's new iPhone still boasts major enhancements even if it has the same design as the old one. The most beautiful phone of the year will be impossible to ignore if you are a technology enthusiast.